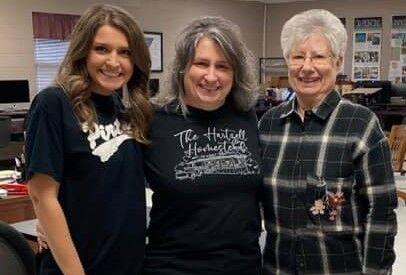 When Shelby Hartzell steps into the EAST classroom at Dover High School she'll be stepping into the same classroom her mother and grandmother retired from.
"It's three generations teaching from the same classroom," Hartzell said. "It was not planned or in the works at all. It was a surprise."
Hartzell, who has one year teaching agriculture in Northwest Arkansas, said she was praying about her career's future. Then this opportunity presented itself.
"My Mom is the EAST facilitator at Dover, and in high school I took EAST under her," she said. "I loved it, but I didn't think about making it a career."
Hartzell's mother, Sharla Hartzell, started the program. She decided to retire at the end of this year, and the school approached Shelby to replace her.
"I thought about it, and knew it was the right choice," Shelby said. "My grandma, Anna Stewart, taught business in that same room. I'm a super sentimental person anyway. It makes me teary eyed thinking about it. I love history and for it to be family history...it's so neat to think of my mom's legacy and grandma's legacy being in that room.
"And besides the family aspect, it's special to go back home and get to serve the community that served me so well. It's just special."
Shelby made the announcement on Facebook on April 19.