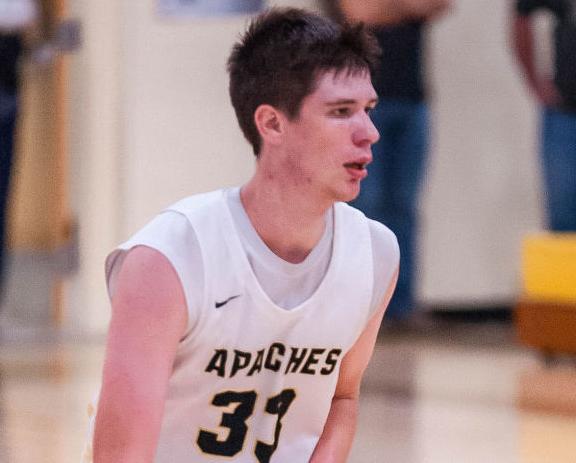 Pottsville 59, Subiaco 58 OT
If you have ever been to Subiaco Academy's gymnasium you know it is a tough place to play.  It feels like a dungeon and visiting teams rarely come out with a victory.  The Pottsville Apaches were able to overcome the STP (Subiaco Trojan Power) to pick up a major 4A-4 conference victory.  
In a game of runs the Apaches were able to survive on the road to get the victory.  Pottsville got down as much as 11 points at halftime before they made their run.  The Apaches outscored the Trojans 18-1 in the third quarter to take a six point lead.  Pottsville continued the momentum to take as much as a 10 point lead, but as many of Coach Tim Tencleve's teams have done in the past the Trojans stormed back.  With Subiaco trailing by three and the ball James Taylor hit a 30 foot shot to send the game into overtime.  A testament to the Coach Shane Thurman of Pottsville is that his team did not wilt on the road after a shot like that.  Most teams would have.  
In overtime the game went back and forth.  With Pottsville trailing by one and time winding down it was Wesley Heikes who came up with the game winning basket.  Pottsville was able to survive Subiaco 59-58 in overtime. Coach Shane Thurman said of the game; "Subiaco is a difficult place to play, so we are excited to get a road win. We played great in the third quarter to get back in the game and take a lead, but down the stretch we turned it over and missed some key free throws.   I was really proud of our guys for bouncing back in the overtime, and finding a way to win. This is a great way to go into the Christmas break.
Carter Horton pulled down a double-double with 16 points and 10 rebounds.  Kade Mainhart and Logan Porter both added points  Porter also added seven rebounds.  Wesley Heikes added 12 points and 8 rebounds.  Pottsville will appear in the Hoops for Hunger tournament at Cyclone Arena December 27-29.
Scoring By Quarter:
1st PHS 10 SA 12
2nd PHS 7  SA 16
3rd PHS 18 SA 1
3rd PHS 17 SA 23
OT  PHS 7   SA 6