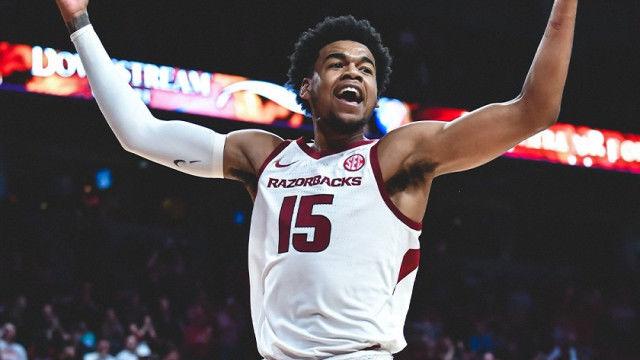 By Kevin McPherson
FAYETTEVILLE — No depth, no problem as the Arkansas Razorbacks pushed all the right buttons on Tuesday in their season-opener against Rice that also doubled as the debut of first-year head coach Eric Musselman.
The pre-game news coming out of Fayetteville may have seemed ominous — that two Hogs had been ruled out as the team would start the season with only eight scholarship players — but star guards Mason Jones and Isaiah Joe combined for 56 points, 12 rebounds, and 10 assists as Arkansas systematically dismantled the Rice Owls, 91-43, to send Musselman to the winner's circle on Nolan Richardson Court at Bud Walton Arena.
"I thought the guys did a great job with a limited roster, so to speak," said Musselman, who improved to 4-1 in season-openers as a college head coach.
"In the last four years I've gotten kind of used to a roster that has only seven or eight. It's kind of what we've had for four straight years. I looked up at one point and Isaiah Joe was at the power forward spot and towards the end of the game his last segment he was playing point guard. So he went anywhere from the one to the four."
"From a versatility standpoint our guys have done a really good job of learning multiple positions. I thought our half-court execution on baseline outside out court sets was really, really good. Because I was worried about being a little bit sloppy and one or two guys being in the right spots offensively. But I thought every guy that checked in the game did a really good job of understanding spacing and our second and third options. It's easy for a basketball team to understand first option but when the defense takes away option one and two how do you read and react to what the defense is giving you? But I thought our guys did a good job."
For more on the story click the link:
https://www.kark.com/pig-trail-nation/hoop-hogs-bring-in-musselman-era-with-91-43-home-thrashing-of-rice-on-tuesday/