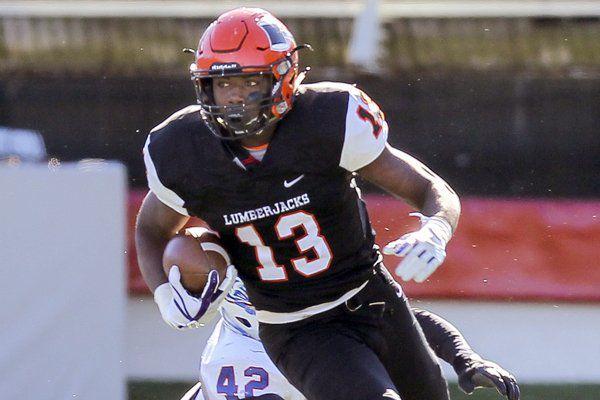 Almost every article that is written on the outlook of the 2019 Razorback football season starts with  how bad the 2018 Razorbacks were.  Well, this will article will be no different. This time the concentration is on the wide receivers and you guessed it, they were bad.  Considering the era of football that we are currently in it may be argued they were the worst in Razorback football history.
The Razorbacks did not have a wide receiver crack 500 yards last season.  LaMichael Pettway led the wide receivers with 30 catches tied with tight end CJ O'Grady, who didn't catch a ball until the Texas A&M game which happened to be the fifth game of the season.  Of the wide receivers, the next leading pass catcher was junior Deon Stewart with 22 followed by freshman Mike Woods with 18 and Jordan Jones with 17.  That's not good. 
Can all the blame for lack of production be laid at the feet of the wide receivers? No. There were many times that receivers ran open and the quarterbacks just couldn't get them the ball. Not Ty Story.  Not Cole Kelley.  And poor Connor Noland just quit football completely.  (Note:  That's just a joke Noland quit because his future is in baseball).
As with many other positions the wide receivers just didn't have the talent needed to succeed.  What did Chad Morris do to remedy the lack of talent? Recruit.
Remember these names:  Trey Knox (6-5, 205), TQ Jackson (6-4, 197), Treylon Burks (6-3, 223), and Shamar Nash (6-3, 195). These are the names that will make up the greatest wide receiving corps in Razorback history.  You say, 'slow down Caldwell!' I say these guys are for real.  They are currently proving that they are, in fact, for real even in the earliest stages of their careers. 
The name most heard from so far is Trey Knox—who scored a touchdown in the spring game.  He caught a five yard pass and turned it into a 45 yard touchdown.  Treylon Burks from Warren, Arkansas was the highest rated recruit in the 2019 class, but was slowed due to an ACL tear his senior season.  To give you a little perspective on the sheer size of Burks he is the exact same size of former Ole Miss wide receiver and current Seahawks wide receiver DK Metcalf.  Metcalf tore through SEC defenses averaging 18 yards a catch and 14 touchdowns in his three seasons at Ole Miss. Also, just for reference Atlanta Falcon star Julio Jones is listed at 6-3 220—three lbs. lighter than Burks. 
Another name that has been bandied about through the first six practices is T.Q. Jackson who might possess the best speed of this group. 
The Razorbacks also bring back vets like senior Deon Stewart, junior De'Vion Warren, and sophomore Mike Woods—who possesses the most potential of the returning group.  Junior Jordan Jones is the fastest player on the team clocked at running 22 mph. Also, Koilan Jackson (6-2, 211) is an unknown, who seems to have some ability. He did not play most of 2018 due to injury.
Back to the greatest wide receiving corps comment. This group could surpass what Greg Childs, Jarius Wright, and Joe Adams did at Arkansas.  Why? Because what the 2008-2011 group had in speed this group has in size while still having the speed to go with it.   Think about this, the 2008-2011 group had only one receiver who had the kind of size of this year's freshman group possesses in Greg Childs.
Childs, in this writer's opinion, was the greatest wide receiver that Arkansas has ever had for 2.75 years of his career.  He suffered an injury in the Vanderbilt game in 2010 that he never recovered from.  During his sophomore campaign he had 48 catches for 894 yards and seven touchdowns.  He was well on his way to having an even bigger junior season when he was injured. 
While I feel it's pretty easy, barring injury, to project their careers the learning curve of playing wide receiver as a freshman in the SEC is large.  In fact, some say that position is one of the hardest to play.  Only time will tell what this group will actually do, but they seem to be poised to make a greater impact in 2019 than those of 2018.