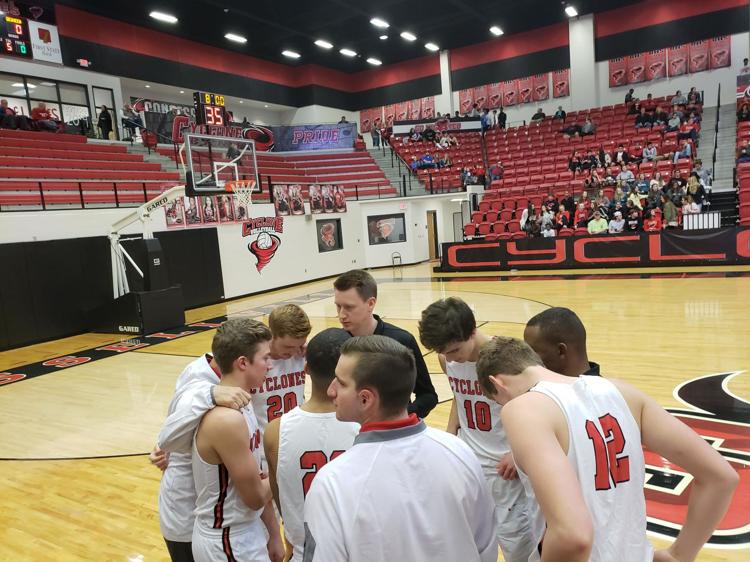 Russellville 70, Episcopal 45
In the first four minutes of the second quarter the Russellville Cyclones put the Little Rock Episcopal Wildcats away.  The Cyclones (7-4) went on a 17 to one run after being outscored 11 to eight in the first quarter by the Wildcats.  Caleb Franklin came off the bench to spark the Cyclones in that run.  Because of their strong open to the second quarter Russellville was able to take a 34-20 halftime lead. 
The Episcopal Wildcats did their best to make things interesting in the third quarter by scoring the first six points to cut the Russellville lead to eight.  That's when Kade Shaffer went off.  Shaffer scored 11 points in a row for the Cyclones in a somewhat odd set of events.  After a nice drive a lay-up the Cyclones regained the possession that's where Shaffer hit a three-pointer and got fouled giving Shaffer a shot at a four-point-play.  Before the ensuing free-throw Episcopal was called for a technical foul which gave Shaffer three free throws and the ball back.  Shaffer was able to connect on all three free throws and on the resulting possession hit yet another three pointer and the Cyclone lead went from nine points to 20 basically putting the game away.
Coach Kyle Pennington said, "I thought we played well and played together.  We didn't start well—in our last two games we've done that—we came out in the second quarter with some subs in the game and really kind of took off offensively. We tell them every single day that if you share the basketball we have a chance to be a very good basketball team because we have several kids who can score the basketball." Russellville did a good job sharing the basketball as the scoring was spread out amongst several 12 guys.  Caleb Franklin lead Russellville with 12 points while Ryan Sitkowski and Kade Shaffer added 11 respectively. 
The Cyclones advanced to the finals of the Russellville Rotary Club Hoops for Hunger Tournament where they will face a stiff test in Baptist Prep.  Baptist is the defending 4A state champions and have Kansas Jayhawk signee Isaac McBride.  McBride scored 36 against Pottsville Friday night in their semi-final matchup versus Pottsville.  The game is scheduled to start at 7:00 pm at Cyclone Arena.