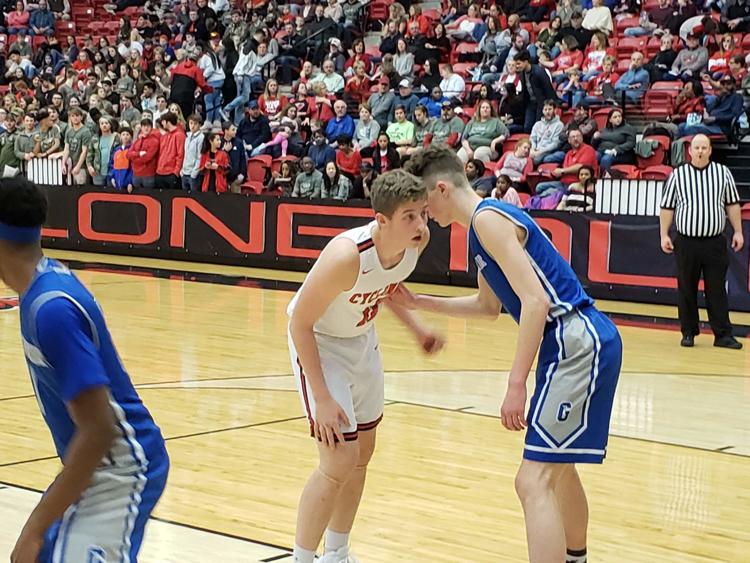 Russellville 58, Beebe 48
Russellville (17-5, 9-1), the leader in the 5A West conference, was not supposed to have a test like they had Friday night 2-9 with the Beebe Badgers (8-14, 3-7)—after all it was colors day.  Colors day opponents are not supposed to challenge the host teams.  Someone forgot to tell the Badgers.  Beebe were game and not backing down against the Cyclones. Russellville, though, was able to prevail 58-48.
Basketball is about matchups and the Badgers, who sit in sixth place in the conference, have given the Cyclones trouble this season.  In the first meeting, Beebe gave Russellville all they wanted by controlling the tempo deliberately slowing it down.  The Cyclones were able to claw out a six-point victory 48-42 in that contest.  Friday was not much different.
Russellville carried a 14 to nine lead out of the first quarter.  The Beebe Badgers used a 22-point second quarter to take a 31-28 lead into the half.  The Badgers extended their lead in the third quarter to 44-38, but the game was beginning to turn in the third. The Cyclones pushed the tempo by extending their defense.
Momentum is a funny thing in sports and the Cyclones got it going at just the right time. Russellville used a 20-4 fourth quarter to separate themselves from the Badgers.  The Cyclone defense was everywhere creating havoc and the Badgers just did not respond well.  Frustration set in for the Badgers when EJ Smith got a technical foul for shoving Bowen Mathis.  The Cyclones knew they had the Badgers right where they wanted them at that point—and they did.  Russellville went on to a 58-48 victory.  The Cyclones will travel to Alma on Tuesday in an important 5A West matchup.  Russellville used another balanced scoring attack to take the Badgers down:  14 from Kade Shaffer, 13 from Bowen Mathis, and 11 from Ryne Sitkowski.
Russellville 50, Beebe 42
In what was a very similar game to the boys game the Lady Cyclones (14-8, 6-4) came out with a 50-42 victory over the Lady Badgers of Beebe (6-17, 0-10). 
The Lady Badgers used a 17 to six second quarter advantage that gave them a 24-18 halftime lead.  The Lady Cyclones extended their defense and upped the pace of the game which led to an 18-point third quarter and regaining the lead 36-30 by the end of the third quarter.
The teams battled to a 14-12 Russellville advantage which game the Cyclones the ultimate advantage at 50-42. 
The Lady Cyclones also used a very balanced scoring attack with Cara Davis, Sara Velazquez, and Anna Myers all had 13 points.
By virtue of Greenwood's loss to Vilonia the Lady Cyclones are in a three-way tie with Greenwood and Siloam Springs for third place in the 5A West making every game for them that much more important.