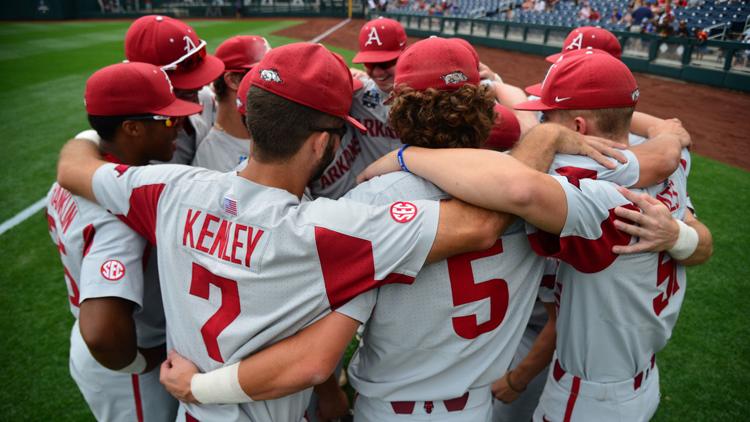 D1baseball.com predicts Arkansas to be back in the College World Series once again next season.
Kendall Rodgers, Editor in Chief of D1baseball.com, predicts Arkansas in his eight for Omaha next season. In 2018, the Razorbacks were a foul ball away from winning a national championship. Meanwhile, in 2019, they went 0-2 losing two one-run games to Florida State and Texas Tech. The 2019 season marks the first time in school history that the Razorbacks made it back to back trips to the College World Series in Omaha.
This season Arkansas was not expected to be in the College World Series by the prognosticators.  The Razorbacks were picked fourth in the SEC West after replacing six of nine position players and their top two pitchers.  But Dave Van Horn develops players.  Players such as Jack Kinley—who got very little playing time in 2018—stepped up to be impact players for the 2019 squad that ended up winning the SEC West.
Now, Arkansas brings back six position players, two starting pitchers.  Of the six returnees two of those made team USA College National Team (Heston Kjerstad and Casey Opitz) and a third made the initial roster but was cut (Casey Martin). The bullpen will be the question mark for next year's squad as it will have to be retooled. 
It looks as if the Razorbacks will be stocked for the few years because of strong recruiting classes.  Arkansas has the number 14 recruiting class to go with what is returning next year from the 2019 squad.  Perfect Game rates three Arkansas players as 10 out of 10—right-handed pitcher Blake Adams out of Har-Ber in Springdale.  He is expected to push for the third starting rotation.  Nathan Stevens is a catcher/outfielder out of Waunakee, Wisconsin.  Also, Evan Gray, a right-handed pitcher/outfielder from Swansea, Illinois.  All three are expected to push the returners for positions.  Also, look out for names like Jason Hodges (6-3, 210) outfielder form Park Forest, IL and Chet Allison.  Allison hit .446 with 11 homeruns 50 RBI and 36 extra base hits for Fresno City College.  Allison played for Arkansas softball coach Courtney Deifel's father Ron Scott.  Scott said of Allison in an interview with Matt Jones of the Arkansas Democrat Gazette, "He's certainly one of the top five I've ever coached and I've had seven go to the big leagues.  He's a big, strong kid that can run and throw and hit, and hit with power."
Arkansas lost position senior first baseman Trevor Ezell, junior second baseman Jack Kenley, and junior center fielder Dominic Fletcher.  Of the six the Razorbacks bring back Dave Van Horn thinks that some of those players will be fighting for positions.  "We've got three or four freshman who can really swing the bat, said Van Horn. "They can get in the lineup. It's going to be a lot more competitive in the fall." 
As good as the 2019 class is the 2020 class is characterized as the "best ever" at Arkansas.  While making it to Omaha is never guaranteed the Razorbacks seem poised to make Kendall Rodgers look good once again as he also put Arkansas in his "eight for Omaha" in 2018.