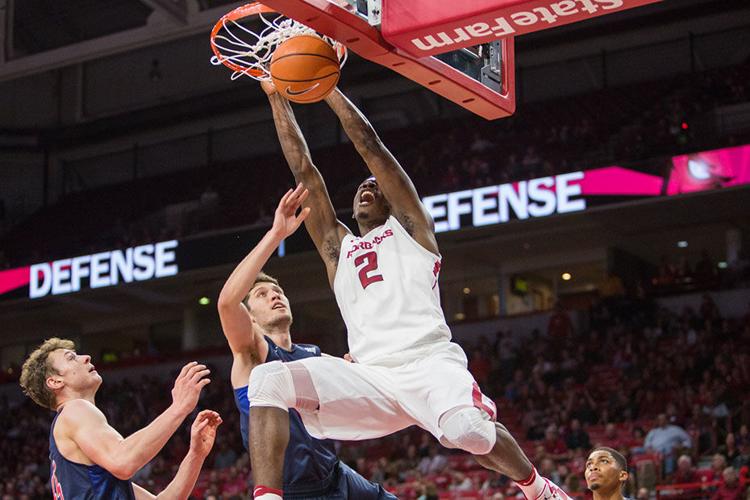 By Kevin McPherson
The Arkansas Razorbacks forced 18 turnovers en route to building a 13-point lead five minutes into the second half, but host South Carolina would suffer only 3 more giveaways the rest of the way while employing a stingy defense to complement red-hot shooting for a 40-15 game-closing run that punctuated a 77-65 win for the Gamecocks in Columbia, S.C.
Arkansas (14-9, 5-5 SEC) had won 3 consecutive games and 4 of it last 5 that included 4 straight league wins. The Razorbacks built double-digit second-half leads before trailing late in their last two games against LSU and Vanderbilt only to prevail in the end. But when South Carolina became the third such opponent to erase a second-half double-digit deficit for a late lead on Arkansas, the Hogs were unable to fire back with counter-punches -- not on either end of the floor in the final 3 minutes of the game when the Gamecocks expanded on a two-point lead to close with a final 10-0 run.
South Carolina (12-11, 7-3 SEC) trailed 50-37 when it ran off a 22-4 run for a 59-54 lead with 8:36 to play, and though Arkansas did mount a 7-0 spurt to regain the lead at 61-59 lead with 6:02 left, the Gamecocks flexed their muscle, skill, and will at both ends of the floor to slam the door on the Hogs' bid for a 5th straight league win. South Carolina is now 4-1 in SEC home games.
Rangy 6-6 freshmen A.J. Lawson and Keyshawn Bryant did damage inside and out, combining for 41 points on 15-of-23 field goals (including 5-of-7 from 3) to go with 10 rebounds, 4 assists, 2 steals, and 1 block. Senior forward / center Chris Silva -- the Gamecocks leading scorer, rebounder, and shot-blocker coming in who had picked up at least 4 fouls in 9 straight games -- challenged and got the better of Arkansas star center Daniel Gafford late in the game, finishing with 16 points, 8 rebounds, 3 blocks, 1 steal, and only 3 fouls (1 in the second half) in 30 minutes.
For more of this article click the link: