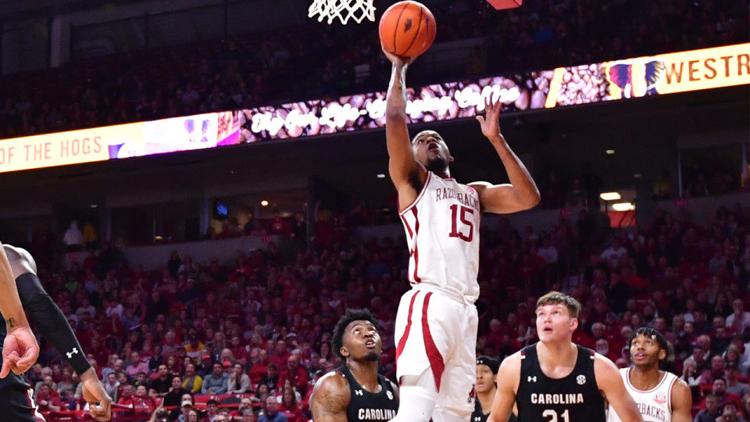 By Kevin McPherson
FAYETTEVILLE — South Carolina took control early and never trailed in a grind-game that typically favors Arkansas, but the Gamecocks held off every Hog challenge while stealing a 79-77 SEC road win on Wednesday in front of 14,085 fans at Bud Walton Arena.
After freshman guard Jermaine Couisnard made 1-of-2 free throws for a 79-77 Gamecocks lead with 26 seconds to play, South Carolina (12-8, 4-3 SEC) made two big defensive stops to hand Arkansas (15-5, 3-4 SEC) its third consecutive league loss (two of which were suffered at BWA).
The first stop was the result of a deflection out of bounds after a baseline drive by Arkansas's Mason Jones that left only 7.5 seconds on the clock, then after a 30-second Hogs' timeout, the second stop came when Gamecocks guard Trae Hannibal denied Jones the ball in a play designed for him that resulted in a contested left-corner three-point shot attempt by sophomore guard Isaiah Joe that missed as time expired.
For more on the story click link:
https://www.kark.com/pig-trail-nation/south-carolina-never-trailed-in-79-77-foul-fest-win-over-arkansas-at-bud-walton-arena/