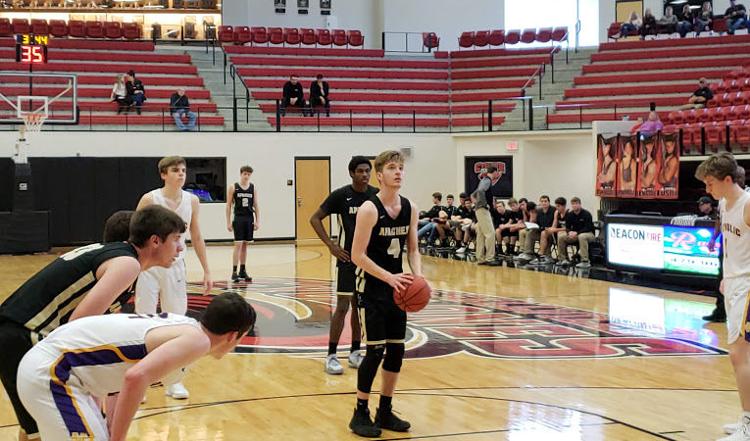 Pottsville 66, LR Catholic 41
The Pottsville Apaches (10-2) picked up the win of day one in the Russellville Rotary Club Hoops For Hunger Tournament at Cyclone Arena with their victory over Little Rock Catholic (8-4) in senior boys action.
Some teams come in from the Christmas Break layoff rusty that was not the case for the Apaches.  Pottsville came in crisp and ready to play from the opening tip.  Pottsville used their biggest weapon to their advantage in their 25 point victory--three point shooters everywhere.  The Apaches average eight three-pointers per game hit just above their average with 10. 
Coach Shane Thurman commented on his senior class helping the Apaches to their big victory, "Our seniors showed a lot of maturity today against the switching defenses that Catholic employed."  The Apaches start four seniors and it was senior Logan Porter was named player of the game and lead the Apaches with 22 points. 
The Apaches were able to stave off a Little Rock Catholic (8-4) run that cut the Apaches 16 point halftime lead that had ballooned to 19 in the third quarter.  The Rockets were able to cut the Apache lead from 38-19 to 43-34 from that point forward Pottsville outscored Catholic 23-7 to make the final score 66-41. The Apaches will take on Baptist Prep tomorrow at 5:30 in the semi-finals of the Hoops for Hunger Tournament.
Wesley Heikes added to Logan Porter's 22 points with 16 points of his own.  Carter Horten lead the Apaches in rebounding with seven to go along with his 11 points and Blake Andrews added five assists.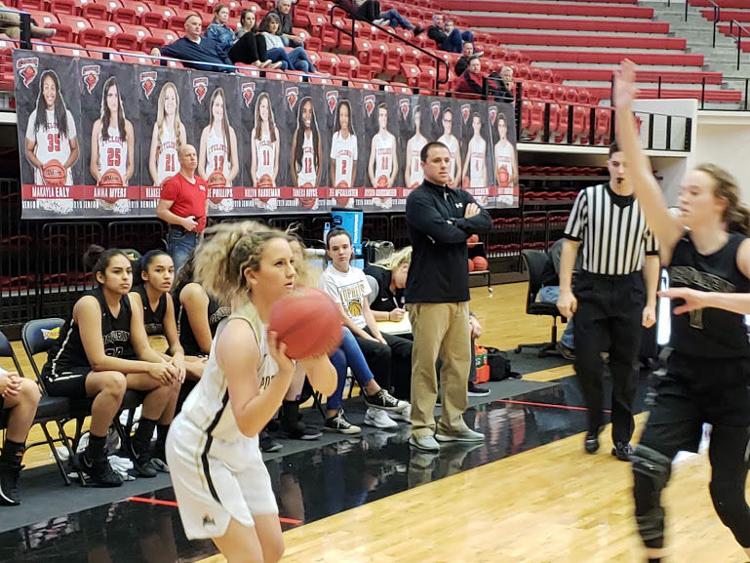 Pottsville 54, DeQueen 42
The Pottsville Lady Apaches won their fourth straight with their 54-42 victory over the DeQueen Lady Leopards. 
After a 15-13 first quarter in DeQueen's advantage Pottsville used a 12-5 run to get a take a five point lead powered by crisp ball movement from the inside out.  Pottsville used that ball movement to their advantage and knocked down a couple three-pointers to take a 28-24 advantage into the third quarter.  The Lady Leopards had several opportunities to take a lead after cutting the Pottsville lead to 40-39 early in the third quarter. The Lady Leopards were unable to convert.  The Lady Apaches closed out DeQueen with a 14-2 run to make the final margin 54-42. 
Emma Tedder was named player of the game with 16 points.  Abby James 10 and Shannon Lasey added 10. 
Other Hoops for Hunger Action:
Sr. Girls:  
Two Rivers 61 JC Westside 26
Charleston 43 LR Central 41
Sr. Boys:
Baptist Prep 85 JC Westside 39