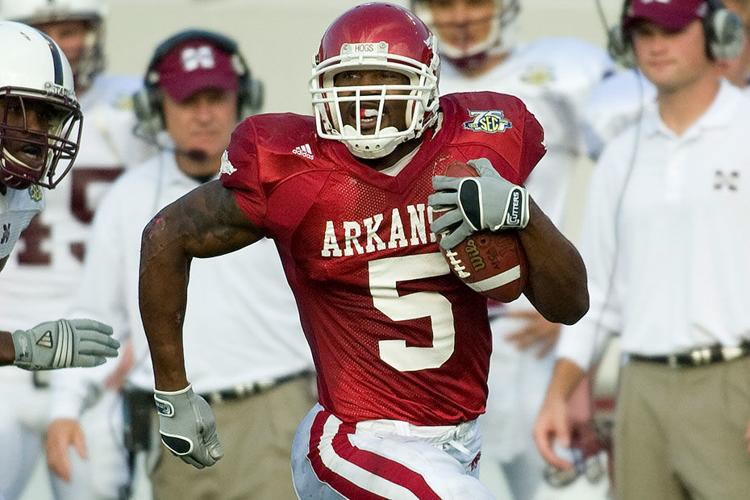 There is an old saying that goes something like, 'if you say it enough people will eventually believe it.' The Arkansas Razorbacks are finding this out the hard way. As the game Saturday night was winding down versus number one LSU announcer Greg McElroy decided to chime in about Arkansas' firing of Chad Morris, and I'm paraphrasing: 'Arkansas did not give Chad Morris enough time to get the program going in the right direction, because the Arkansas job is the hardest job in the SEC.' While McElroy, who I respect greatly when it comes to a well thought out college football opinion, seems to be following the same narrative that the Razorback program is too hard to win with and Arkansas should just be happy with a warm body to fill the head coaching position. Unequivocally, McElroy is wrong!
There are two things that I have issue with in McElroy's statement—the first premise was Arkansas needed to give Chad Morris more time. Let's start there.
Chad Morris might have been the worst performer at head coach in SEC history. He will go down as one of, if not, the worst coaching hire at the University of Arkansas--ever. In case you've been living under a rock, Morris won four of his 22 contests while at Arkansas. Just for fun, what was Morris' best win in those 22 opportunities? It came this season as Arkansas beat current 4-7 Colorado State in game two of this season. His other three wins came against FCS Eastern Illinois who finished 3-8 in 2018, Tulsa who finished 3-9 in a league outside of the Power Five, and Portland State who finished their season 5-7 in FCS. Not only did Chad Morris not beat a team in the Power Five, he did not beat a team with a winning record.  After Western Kentucky came in with former quarterback Ty Storey and dominated the Razorbacks 45-19—and the game wasn't as close as the score indicated—it was more than evident that a change was needed.
The firing of Morris was not one of expectations being too high, or an athletic director out to get him. It was one of not meeting expectations. Very low expectations. Most believe that Morris would still be the coach with wins over San Jose State and Western Kentucky. The Monday after the San Jose State game Hunter Yurachek threw his full support in the corner of Morris. It wasn't the dreaded vote of confidence. It was an AD that understood what Morris took over and believed in what he was doing. .
McElroy has now stated on more than one occasion that Arkansas is the toughest job in the SEC. While Arkansas has had its struggles, the Razorback job is not the hardest in the SEC. McElroy has forgotten that he played in front of 76,000 screaming hog fans when he brought his number one Alabama in versus number 10 ranked Arkansas. That was the first of two straight years that Arkansas was firmly in the national championship picture. He called that the loudest stadium he ever played in. When has Vanderbilt had that? What about the Mississippi schools? 
McElroy's premise is based on the fact that Arkansas is not fertile recruiting ground for SEC players as less than 10 usually come out of the state every year. But it was Houston Nutt (75-48, 42-40) who took more Arkansas kids per class that had the longest sustained success at Arkansas. He developed Arkansas kids to play on the SEC level and recruited east Texas for players who could help the Razorbacks. He also recruited speed. Nutt had an innate ability to get more out of an Arkansas kid than even what they felt like they had in them. Even with poor results Chad Morris proved that when you put an emphasis on recruiting Texas instead of insulting all Texas coaches (like former coach Bret Bielema did) you can pull some nice gems out of the Lone Star State. Arkansas also has metropolitan areas Tulsa, Kansas City, St. Louis, Memphis, and Shreveport to pull from. That is enough to start a Razorback revolution, or at the very least get the football program back to respectability.
While I believe McElroy is wrong on both counts, one thing that is glaring is the pride that past Razorbacks played with simply isn't there. Whoever the next coach ends up being must restore the pride in being a Razorback. He personally has to embody what a Razorback is. The Razorbacks will never be a favorite against the giants of college football such as Alabama, Auburn, or Florida, but they can and have competed on the field with these programs.  Being competitive with the giants of college football only comes when there is pride in putting that cardinal and white on.
There have been many contests where the Razorbacks were not given much of a chance but walked out victorious. That is one thing this writer misses dearly is the day you felt like an upset was actually possible. It didn't always happen. But even as the worst Razorback team was put on the field you felt as if they could play with almost anyone--something that has been lost over the past several seasons.
Restoring pride in the Razorback football program comes with a coach that understands what it means to be a Razorback.  The name Razorback is unique in itself considering it was birthed on a day when one of the U of A's teams played with a certain pride.  It doesn't mean that the next coach has to be a born and bred Arkansan or played for the Razorback, but the coach must rebuild the pride that has been lost.  
As a state Arkansas is an underdog, but that underdog has some bite.  There are many Arkansans that have risen to higher heights from what is thought of as the middle of nowhere.  For proof of that look at the fortune 500 companies that have come out of Arkansas--not to mention Arkansas is one of 18 states that has produced a President of the United States.  The new coach must understand the pride that the people of Arkansas have in the Razorbacks athletic program--especially football. This is Arkansas' professional team.  The next coach must inherit that chip that many Arkansans carry on their shoulder. It may take a more than a chip to overcome the story that is being told about the Razorback football program in its current state--it may very well take a stump.