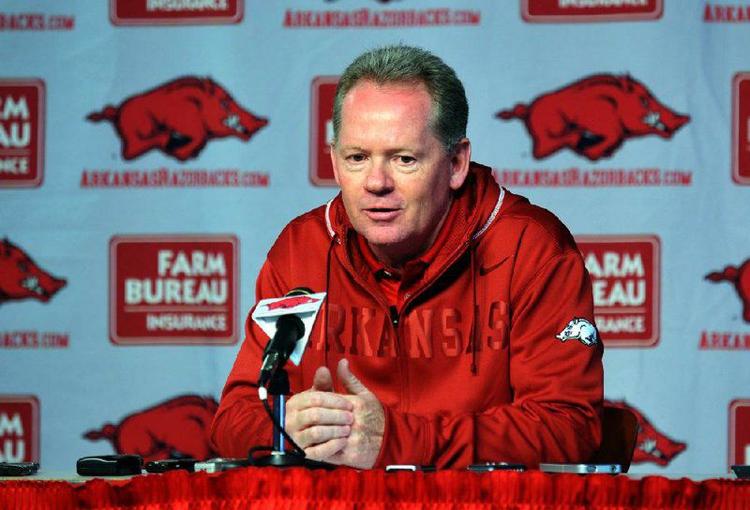 Some of you that grew up in the eighties will be familiar with the "Say No to Drugs" campaign implemented by former First Lady Nancy Reagan.  As a part of that campaign there was a commercial that had an egg being cracked and the narrator said, "this is your brain." Then he would put that egg in the frying pan and he would add, "this is your brain on drugs" as the egg would sizzle in the pan.  Finally, the commercial would end with, "any questions?" If you want Bobby Petrino to come back as Arkansas Razorback head coach I have to ask, is your brain is in the frying pan?
Bobby Petrino made his first appearance in Arkansas since his firing in 2012 at the Little Rock touchdown Club on Monday.  He may have been there sooner, but he has been working every since he left Arkansas.  He was let go from Louisville before 2018 was over. Petrino once worked magic at Arkansas.  Even the Razorback naysayers had to give them credit.  I remember the voice of the SEC, Paul Finebaum, refer to him as the second best coach in the conference—of course second to Nick Saban. This was from a man that questioned if Arkansas actually belonged in the SEC not too long before he was praising Petrino.
Petrino raised the stature of the Razorbacks to higher heights than anyone since Lou Holtz after the 1977 Orange Bowl.  His 2010 Razorback team is the one I call the best of my lifetime.  Ryan Mallett, Greg Childs, Joe Adams, DJ Williams, Knile Davis, and Jarius Wright were just a few of the names on that team.  Defensively they were probably a little underrated with guys like Tramain Thomas, Jericho Nelson, DD Jones, and Jerry Franklin.  None of those guys other than Franklin—who had a cup of coffee with the bears--made the NFL but were household names in Arkansas.  They were good college players.  His 21-5 record over his final two seasons was a thing of beauty.  Arkansas was at least in the conversation for a championship. The final regular season game he coached at Arkansas was at BCS number one LSU as the number three team in the BCS themselves--with number two Alabama waiting in the wings.  Arkansas lost that LSU game and ultimately finished third in the SEC West. If you remember correctly Alabama and LSU played for the national championship that season. Despite finishing third in the SEC West. It was fun to be a Hog fan.
Then the infamous motorcycle wreck with a woman who was not his wife on the back of it.  While that was embarrassing it wasn't a firable offense.  He could have been forgiven.  Of course, those things don't just happen. There were things going on behind the scenes long before the accident. Petrino and Jessica Dorrell were engaged in an affair that had gone back a year before the accident. It was noted that Petrino hired Dorrell for a position on his staff after the affair had started.  It was known that Dorrell and Petrino were involved and they were told to stop, but obviously they did not. He, then, lied about it.  He hid things from Long such as a $20,000 he gave her for Christmas. Long even noted during the process of firing Petrino that the $20,000 gift could make the University "vulnerable to sexual harassment" lawsuit. The problem with all of this Petrino tried to cover these things up.  Now ask yourself would you survive these actions if it was you in your place of work?
Since the Petrino's accident the Razorbacks haven't been good.  Two games into the 2019 season the Razorbacks still aren't good—some eight years after that trip to Baton Rouge.  But to say they aren't good because of Bobby Petrino is not correct.  You can't blame Arkansas' struggles on Petrino anymore.  They are on bad hires starting with John L. Smith, who took a program that was still predicted to win the national championship the season following Petrino's firing by at least one credible college football pundit. Smith had taken the head coaching job at Weber State in the offseason of 2012, but when Arkansas called he came running. He thought he could win and he needed the money as he was in bankruptcy proceedings. He took what could have been a great team and ran them into the ground.
After Smith, Jeff Long hires Bret Bielema from Wisconsin which looked like the steal of the century.  Bielema was on a plane with Long the day after the Badgers won the Big Ten championship in 2012.  Interest in Bielema started with a hand written note from the coach to Long about how well he handled the Petrino mess.  It was documented later that Bielema was ready to leave Wisconsin because of the heavy hand that Badger AD Barry Alvarez carried.  The Badgers haven't missed a beat since Bielema left Wisconsin which is a tell-tale sign of the kind of head coach Bielema was. Bielema did not do a good job at Arkansas with his overall record being 29-34, 11-29 in the SEC.  He was in over his head as a coach in the SEC.  Chad Morris has followed Bielema and through 14 games of his career as Razorback head coach they are still struggling.
Supposedly, Petrino was so interested in coming back to Arkansas that he didn't take a dime from the Little Rock Touchdown Club.  He also got emotional during the interview with LRTDC host David Bazzel.  Petrino said, "I wanted to be able to come here today and apologize to everybody—the fans, the players—and truly tell you how sorry I am for the way it ended."  He added, "I also wanted to come here and thank you for everything that people in this room—in this state—did for me and my family. You were great to us." 
That apology, those tears, and the memories brought a standing ovation yesterday at the LRTDC, and some have even speculated about bringing him back to be the head coach of the Razorbacks.  A poll was ran by a local news organization after Petrino's LRTDC appearance and 59 percent of respondents were in favor of Petrino's return.  
There is not one reason that Bobby Petrino should be walking the sideline as head coach of the Razorbacks ever again.  Not because of the affair or even because he lied to his boss.  Forgiveness can come for those things, but it's his track record that should keep anyone from ever wanting him back at Arkansas.  All you have to do is look to Louisville to see you do not want him back. 
After spending one season at Western Kentucky Louisville came calling after Charlie Strong left for Texas.  Though, the Cardinals did not have the success that Petrino enjoyed at Arkansas or even the previous stint at Louisville they were relevant.  At one point the Cardinals were in a top five battle at Clemson where Petrino's quarterback Lamar Jackson shined.  Clemson ended up winning the game, but Louisville was a factor in the college football conversation.  That season despite a four losses Lamar Jackson won the Heisman Trophy. 
That success didn't last long. Not even two full seasons after Jackson's Heisman season Petrino was fired from Louisville. 
Petrino is possibly the best offensive mind out there, but he has proven he is not a sustainer of a program. Up until this stint with Louisville he had not been anywhere more than four seasons. He interviewed at Auburn when they didn't even have a vacancy. He left Louisville the first time just six months after signing a 10 year contract with the Cardinals for the Atlanta Falcons.  He left the Atlanta Falcons before the season was over after only three wins for Arkansas. He was fired at Arkansas for misconduct.  He left Western Kentucky after one season. When he actually had a chance to stay at Louisville he did not sustain the program. He never could sustain success anywhere he has been.
 The fact he can't sustain a program has nothing to do with his ability to coach and everything to do with a major character flaw.  He is entitled.  He doesn't like recruiting. Stories came out after he left Arkansas how he blew off recruiting. He thought he was that good.  He has a god-complex when he is successful people should grovel at the feet of Petrino.  Sure, he has been humbled, but when success comes humbleness goes out the window. Due to his great ability to dissect defenses he feels like things should be handed to him.  Apparently, tall blonde 25 year old former volleyball players fall into that category. Those that were in the know at the time Petrino was at Arkansas knew he was hard to work with—even to his boss Jeff Long. Long couldn't fire him while the Razorbacks were winning unless given a major reason.  It has been said that the athletic office was on eggshells constantly trying not to make him mad.  His sideline demeanor could be a clue into what it might have been to work with him.  He had very little control of his assistant coaches or players.  He was powerful, but he let it go to his head.
Every place that Petrino left he left it in shambles.  Make no mistake about it a Petrino return would also mean a Petrino mess.  If given the opportunity Petrino could win once again at Arkansas, but he has proven that he burns anyone and anything he touches.  Forgiveness can be had, but nothing has been proven to say he wouldn't do it again. Personally, I'm not signing up for that.