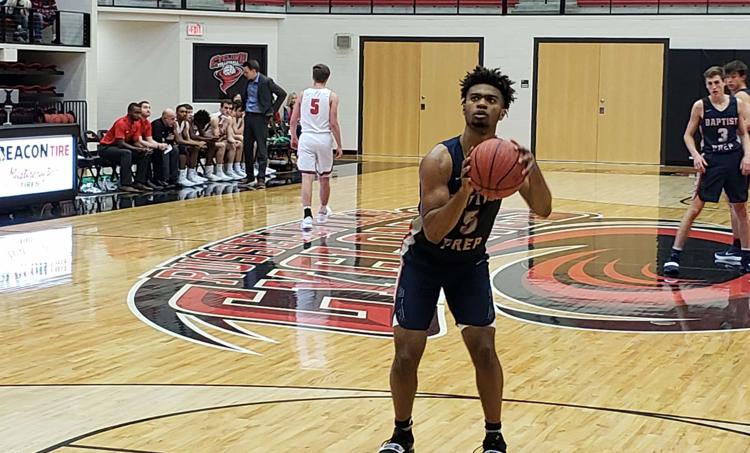 The Russellville Cyclones walked away with the Russellville Rotary Club Holiday Hoops for Hunger Tournament championship on Saturday evening.  What a great win for coach Kyle Pennington's program, but with all due respect to the Cyclones and coach Pennington the story of the tournament may have been Kansas signee Isaac McBride.  McBride, the 6'1" 185 lbs. senior combo guard, scored 114 points in his three game during the event—that is an average of 38 points per game. 
Isaac McBride's 58 points in the finals were the single-greatest performance I have seen from a high school player, and I watched Russellville and Arkansas Razorbacks legend Corliss Williamson hang 52 on Hot Springs. When an in-state kid performs on that level the natural question becomes:  how someone with the kinds of skills he possesses escape the state?
These days it is easy to be negative about most things Arkansas Razorbacks.  Right now, the target is Mike Anderson and the men's basketball team.  Tis the season, right? Every player that leaves the state causes the scrutiny to become that much greater—especially when that player is headed to the Kansas Jayhawks. When river valley basketball fans got the pleasure to watch three days of McBride it made the grumblings louder from Hog fans from this part of the state.  The Razorbacks, though, are not to blame for McBride going to elsewhere. 
Isaac McBride's recruiting has been an interesting one.  Heading into McBride's final summer basketball circuit he was a lightly regarded two-guard for the Joe Johnson Arkansas Hawks his offers were UALR, Arkansas State, and Abilene Christian.  Full disclosure, Mike Anderson has received more than his share of criticism for taking kids with that type of offer list.  You could have asked any recruiting expert I'm not sure anyone of them would have saw what was coming for McBride during his AAU circuit. The Baptist  Prep star exploded on the summer circuit 24.5 points per game, 4 rebounds per game, 2.5 assists per game, and 1.6 steals per game against some of the best talent in the nation.  That performance catapulted McBride into the top 100 recruits in the nation and is considered the number one player in the state by most.  It is hard to say whether he entered the top 100 before or after he received his offer to Kansas. That fact does matter by the way.  If you don't know how it works many kids are identified and offered scholarships by major programs mostly in their freshman and sophomore years--McBride received his late scholarship offers from big-time programs late into his final summer of play--which is rare.
Meanwhile, on the Razorbacks side of things they had just brought in nine newcomers and currently do not have enough scholarships for all their players.  The only have one player, Adrio Bailey, that is above a sophomore.  Justice Hill is the only 2019 signee Razorbacks basketball signee.  Hill, the son of former Arkansas Razorbacks football assistant and current President of Arkansas Baptist College Fitz Hill, committed to the Razorbacks during his freshman year.  Hill graduated early and is currently a redshirt non-scholarship walk-on with the basketball team, Arkansas' Gatorade Football Player of the Year just for to add even more intrigue to this story. Currently, there are no scholarships available with the basketball team. It is considered common knowledge that Daniel Gafford is leaving for the NBA following this season.  This will open a scholarship that will be filled by Hill.  It also leaves Arkansas with a huge void that they will fill with a big man.  McBride does not fit that bill. 
At his signing day with the Jayhawks an emotional McBride was quoted as saying, "The Lord's timing is everything sometimes it might not always be what you want—your Arkansas' might not always come in—when your season comes I want you to thank God." Some took that as he wanted to be a Razorback.  Maybe he did, but Arkansas did offer the young man a scholarship. A scholarship that they currently do not have on a roster filled with guards.  Still many will want to place the blame at the feet of Mike Anderson when they see performances such as the one Saturday night. If McBride wanted a Razorback he had the opportunity to do so.  McBride did not even give Arkansas an official visit. Frankly, McBride took the bigger offer in the Jayhawks.  Who can blame him?  A Kansas basketball offer would be next to impossible to turn down.  Let's face it, a Razorback offer to an in-state kid does not mean what it once did.
As far as Isaac McBride and the Arkansas Razorbacks it feels like a boy who was interested in a girl yet the girl was not interested in the boy.  Later when the girl became interested in the boy the boy was interested in a better-looking girl.  It is difficult to say how things will work out for Isaac McBride at Kansas.  Some of the toughest competition that McBride will face will be in practice. Kansas routinely signs the top players in the nation.  Isaac McBride is going to be a Kansas Jayhawk next fall, but after what I saw in the Hoops for Hunger tournament I'll be rooting for the young man.