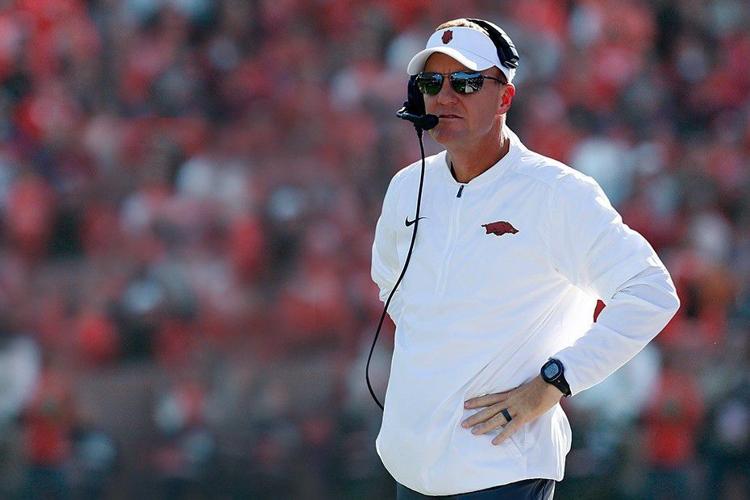 There will be a day that this column is not about coaches.  Since I came on as Sports Director at River Valley Now in December of 2018 the coaching situation at the University of Arkansas has been at the forefront of most everything that has been written. For good reason.  
Mike Anderson was embroiled in controversy by the time that I accepted this position. Shortly before, the Razorback football team had just wrapped up the worst season in Aransas football history.  The season was easily passed off as year one of a bad situation for a new coaching staff.  Unfortunately, the situation has not gotten any better, and the day that the column isn't about coaching is not today.  The fact is, Chad Morris' time as head coach of the Razorbacks needs to be over.  I say that as a guy who really wanted Morris to work.   
When Chad Morris came to Arkansas the tag of "offensive genius" was thrown around liberally.  "Left Lane Hammer Down" was the mantra that Razorback fans could get behind.  It was fun! It was cool! And it was a far cry from what we had seen for the previous five seasons.  With that said, Morris has turned into one of the worst hires in SEC history.   
Right now, the Razorbacks are in the same wilderness that they were in when they fired Nolan Richardson with one regular season game left in the 2001-2002 basketball season. You can draw several parallels between what the basketball program went through and what the football program is currently going through after the firing of Bobby Petrino.  First, both Richardson and Petrino offered their separate programs the most success in a very long time and in the case of Richardson, ever. Second, Arkansas basketball hired their Big Ten coach, Stan Heath, who would offer physicality and toughness. Something that was perceived to be lost in previous years.  Obviously, Bret Bielema was in that mold on the football side of things.  Heath and Bielema improved their programs from the cliff it fell off of, but neither got their programs to an acceptable level. Next, the Arkansas basketball program brought in their pedigreed coach that had the accolades from names such as Rick Pitino and Billy Donovan.  Both lauded the hire and assured fans Arkansas basketball was back.  Chad Morris came with the stamp of approval of such names as Gus Malzahn and Dabo Swinney. Just like Pelphrey it just has not worked.   In fact, Arkansas kept John Pelphrey two years too long.  The Razorback Athletic Department should not make the same mistake with Morris.  
Heath left Pelphrey with a group of six seniors which Pelphrey took to the NCAA second round—as far as Arkansas has been since 1996.  It was Pelphrey's second season that he lost his squad.  By conference season of year two it seemed as if Arkansas was, in fact, back when they beat top ten ranked Oklahoma and Texas in back to back weeks.  The Razorbacks were riding a high that they hadn't seen in many years, but it would not take long for the rug to be ripped out from under them.  Arkansas lost to Mississippi State 74-56 and proceeded to lose the next three. The Razorbacks only won one more game that season after beating Alabama 89-80.  Pelphrey lost the locker-room and the Razorbacks finished with their worst conference record since joining the SEC at 2-14.   
Football is headed toward a SEC record conference losing streak as fast as they can get there. They have now endured two separate 17 game conference losing streaks within five seasons of each other.  Bielema lost his first 14 conference games until he broke through to beat LSU 17-0 the tenth game of the 2014 season.  From there he went 10-15 for the rest of his tenure in conference at Arkansas. The Razorbacks are at 17 in a row right now and counting with LSU looming and Missouri after that.  The losing streak is almost assuredly to hit 19 in a row which would put Vanderbilt's 23 game conference record in jeopardy.   
What I am about to say is going to be a mouthful, but both Pelphrey and Bielema have been light years better than Chad Morris.  Chad Morris has lost seven games by 30 points or more since arriving at Fayetteville.  In comparison, Bobby Petrino lost three in four seasons and Houston Nutt lost two in ten seasons.  The Razorbacks have trailed by at least 21 points 12 times in the 22 games that he has coached at Arkansas.  Bielema, who I personally proclaim as the worst five year coach in Razorback history, did it 16 times in 63 games. He is also 1-34 when trailing at halftime and he has never won a power five game. Not to mention, the losses to San Jose State, North Texas, Colorado State, and now Western Kentucky. Chad Morris is on pace to easily eclipse Bielema's crown as worst coach in Hog history.  That indeed is a mouthful.   
I personally liked the possibilities that Morris brought with him to Fayetteville.  This will ruffle some feathers amongst readers, but he was basically the Gus Malzahn of Texas.  Go look up the story where he visited Malzahn and saved his job at Stephenville High School.  He took Malzahn's hurry up no huddle and ran with it.  Not only did he save his job, but he became a coaching legend in Texas.  He will be inducted into the Texas High School Sports Hall of Fame this summer.  He also brought his offense to FBS and was known by some as the best Offensive Coordinator in the nation.  It simply has not worked at Arkansas. 
Morris doesn't look like he will be inducted into the Arkansas sports Hall of Fame anytime soon.  He has made questionable decision after questionable decision and it starts at the quarterback position.  Some of those were touched on in a recent column titled, "It's Time to See What the Other Quarterbacks Can Do."  Against Mississippi State he didn't do anything to acquit himself with the fans by starting Ben Hicks and then Hicks repaying him by playing awful. It diddn't help his cause that John Stephen Jones equaled Hicks' nubmer of touchdown passes. Then, KJ Jefferson gets his first action in the fourth quarter against and electrifies the fans with a 4 play 75 yard drive capped off by a seven yard touchdown run by Jones. Everybody Razorback fans asked why hasn't this kid been playing? 
Simply, it looks as if Morris is in over his head in the SEC.  I was not for pulling the plug on Mike Anderson even though that looks as if that was the correct decision.  Looking back on the Pelphrey tenure it was a mistake to not pull the plug after year two.  I'm of the opinion that it would an even bigger mistake to continue on with the Chad Morris era.