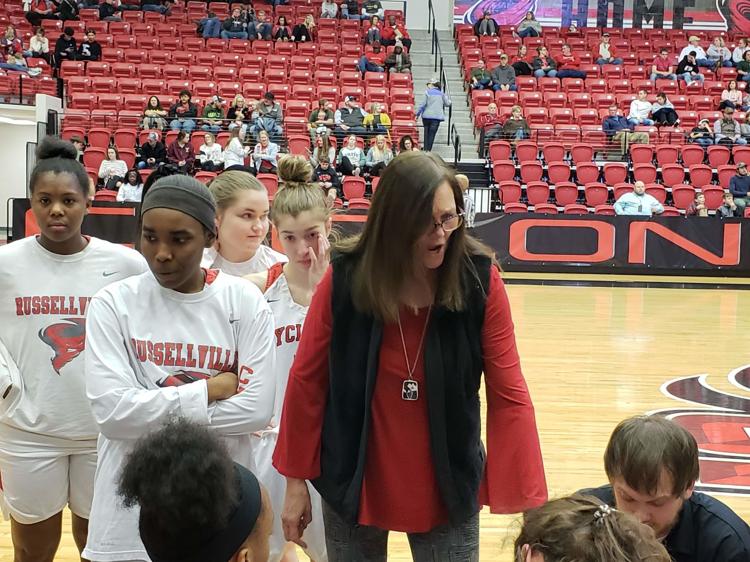 Russellville 66, Pottsville 49
The old saying goes it isn't how you start but how you finish. The Lady Cyclones did both well in their 66-49 victory over the Pottsville Lady Apaches. The strong start and finish was enough to propel them to the finals of the Russellville Rotary Club Holiday Hoops for Hunger Tournament at Cyclone Arena. 
The Lady Cyclones jumped on the Lady Apaches with an 8-0 run to open the ball game and took a 16-7 lead into the second quarter.  The Lady Apaches rallied in the second quarter with 20 points of their own to take a 27-26 halftime lead.  Pottsville was lead by Abby James and Shannon Lasey who combined for 14 of the Lady Apache 20 points in the quarter.
The third quarter the Lady Cyclones were able to gain a seven-point advantage at 39-32 mostly through their defense.  The Lady Cyclones held Pottsville to just five points in that quarter. 
In the fourth quarter Russellville pushed their lead out to 20 points behind Anna Myers' and Makayla Ealy's 17 combined points.  Coach Sherry White pointed out Ealy's play as she added 16 rebounds to her nine points.  "Ealy came out strong—I'm proud of her—she even brought the ball down the floor and got three or four assists. All in all she had some steals and deflections—she ended up with three or four blocks—Ealy really stood out tonight." She also thought her team started well, "We came out really good in the first quarter—I felt like we were ready."
Anna Myers lead the Lady Cyclones with 20 points.  Cara Davis added 16 and Zee McCallister scored 10 for the Lady Cyclones.  The defending 3A state champion Charleston Lady Tigers await the Lady Cyclones in the Finals Saturday Night.
Abby James lead the Lady Apaches with 23 points and Shannon Lasey added 10.  The Lady Apaches will take on the Two Rivers Lady Gators in the third place game on Saturday at 3 pm.