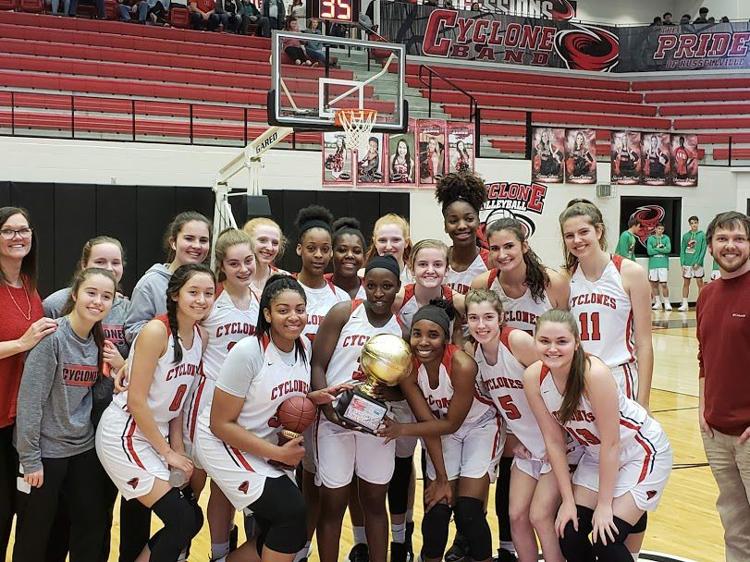 Russellville 57, Charleston 50
The Russellville Lady Cyclones (8-4) handed Charleston their first loss since February 23 when the Lady Tigers lost to Two Rivers in the regional championship last season.  The Lady Tigers got hot in the state tournament and won four in a row to take home the 3A crown just a couple weeks later.  They came into tonight's championship winning their first 14 games giving them an 18 game overall winning streak. 
The Lady Tigers did not look overly athletic and they did not have much size.  To the credit of the Lady Tigers they play the game much like what you would think Dr. James Naismith would have envisioned it.  They were very fundamental in their offense, defense, and decision making.  The way the Lady Tigers started the game out one would have thought they were going to extend that win streak to 19 games as they jumped out to a 16 to four advantage on the Lady Cyclones at the end of the first quarter. 
There was not much life in the game nor did there seem to be much of a threat of the Lady Cyclones pulling the victory off until Cara Davis' three-pointer brought the Cyclones within six points.  Davis, who has a shooter's mentality, really spurred the Lady Cyclones with eight big third quarter points. 
Early in the fourth quarter Zee McCallister tied the game with her three-pointer at 39, but Charleston as the championship team that they are answered back with a seven to two run to go up 46-41.  Ironically, it would be the Lady Cyclones that ended the game with a 16 to four run to match the one of Charleston. Tournament MVP Makayla Ealy seized the lead for good with a bucket plus a foul and a free throw. 
The play of the game may have been Arkansas Tech signee Anna Myers blocked shot and catching of that block to keep the ball in bounds with the Lady Tigers threatening the Lady Cyclone lead.  That block all but sealed the championship for the Lady Cyclones. Anna Myers lead the Cyclones with 17 points and Makayla Ealy added 11 for the Lady Cyclones.