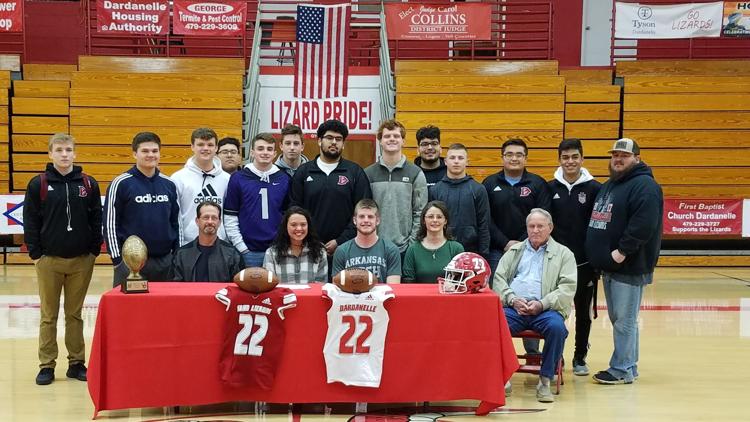 Brandon Bunton and Drew Rust may have been rivals on the football field, but they will now be teammates on the college level as they both chose the green and gold of Arkansas Tech and the Wonder Boys.
Bunton (6-0, 180), a do-it-all, two way player will be playing safety at Arkansas Tech.  Bunton was a captain of the Sandlizard's 4A-4 runner-up team this year that lost in the second round of the playoffs at Nashville 35-34.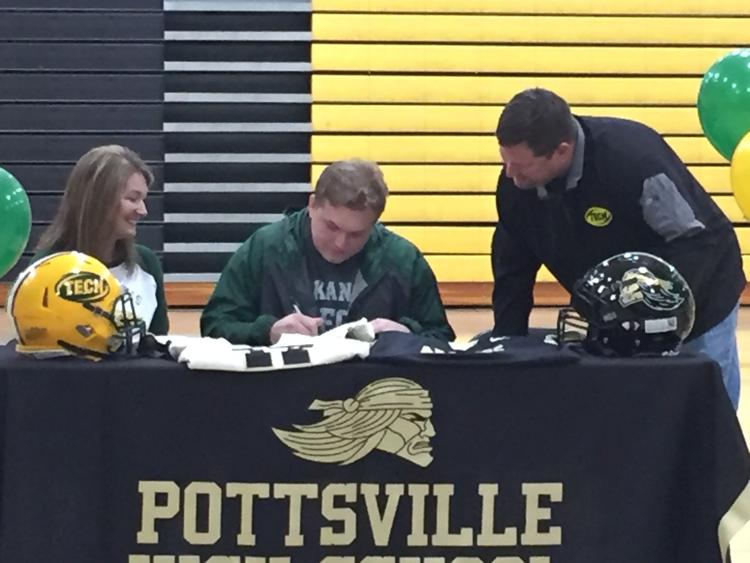 Drew Rust (6-1, 270) was a fullback/tight end at Pottsville along with playing on the defensive line.  Coach Kyle Shipp has him listed as a tight end for the Wonder Boys.  Rust rushed 165 times for 1,075 yards 14 TDs.  
Arkansas Tech Releases Complete 2020 Football Recruting Class
RUSSELLVILLE, Ark. – 38 high school student-athletes and three four-year transfers have joined the Arkansas Tech Wonder Boys 2020 football program, announced by head coach Kyle Shipp on Wednesday.
Of the new additions, 24 are from the state of Arkansas, with student-athletes from Oklahoma, Texas, Louisiana, Mississippi, Tennessee and Missouri also joining the program.
"I'm excited about all of the kids that we're signing – I feel like it's a very good class from top to bottom," said Wonder Boys head football coach Kyle Shipp. "This class is a building block to where we want to get to in the future. Along with our returning class we feel like this group will have the chance to be pretty special."
A complete list of signees follows:
2019 High School Signees
Adam Martin QB  6-0 190  Heber Springs HS, Ark.
Ayomide Johnson OL 6-4 265 Cedar Hill HS, Texas
Brandon Bunton DB 6-0 180 Dardanelle HS, Ark.
Brenton Bachemin OL 6-4 280 Archbishop Rummel HS, La.
Bryce Fox OL 6-7 275 Dierks HS, Ark.
Carmerius Rucks LB 6-0 205 El Dorado HS, Ark.
Christian Corkran OL 6-4 307 Fontainebleau HS, La.
Christian Stafford DB 6-0 170 Lufkin HS, Texas
Cole Cannon OL 6-4 270 Grandview HS, Texas
Connor Watson ATH 6-0 175 Valley View, HS, Ark.
Damarius Newton WR 6-2 195 Van Buren HS, Ark.
Davy Harrod DT 6-0 255 Henry County HS, Tn.
Dewayne Smith LB 6-0 190 Conway HS, Ark.
Drew Rust TE 6-1 270 Pottsville HS, Ark.
Germany Powell LB 6-0 255 Bastrop HS, La.
Hunter Taylor OL 6-1 285 Pillow Academy, Miss.
Jayden Wimberly DE 6-3 220 Vilonia HS, Ark.
Jayson Campbell DL 6-3 215 Arkadelphis HS, Ark.
Jayvien Franklin OL 6-0 270 Russellville HS, Ark.
John Washburn OL 6-0 285 Hoxie HS, Ark.
Jordan Edington QB 6-2 237 Little Rock Catholic HS, Ark.
Jude Bartholomew WR 6-1 200 Van Buren HS, Ark.
Korlin McKinney DL 6-0 275 Conway HS, Ark.
Kyle Green DE 6-1 230 Bryant HS, Ark.
Kyren Harrison ATH 5-11 180 Arkadelphia HS, Ark.
Lorenzo Lawson DL 6-1 250 Arkadelphia HS, Ark.
Mason Ross WR 6-0 185 Rogers HS, Ark.
Matt Arnold DB DB 6-0 180 Texas HS, Texas
Micah Seawood WR 6-2 175 Springdale Har-ber HS, Ark.
Nakiyah Davis WR 6-2 195 Joe T. Robinson HS, Ark.
Nate Burkhartzmeyer OL 6-4 280 Broken Arrow, Okla.
Sam Bartis OL 6-2 280 Sunnyvale HS, Texas
Sammy LeBlanc QB 6-1 175 Teurlings Catholic HS, La.
Travarus Shead Jr. ATH 6-2 210 Drew Central HS, Ark.
Trey White DT 6-1 270 Evangel Christian Academy HS, La.
Tyler Ivy DB 5-11 175 Benton HS, La.
Tyler Williams WR 6-2 180 Metairie Park Country Day HS, La.
Vincent Steppes RB 6-0 175 Warren HS, Ark.
Xavier Clemons ATH 5-11 180 Morrilton HS, Ark.
2019 Transfers
Detavion Turner RB 5-10 220 University of Arkansas at Pine Bluff, Ark.
Jacob Cato OL 6-2 310 Iowa Central CC, Iowa
Devin Burns DL 6-1 240 Austin Peay University, Tenn.