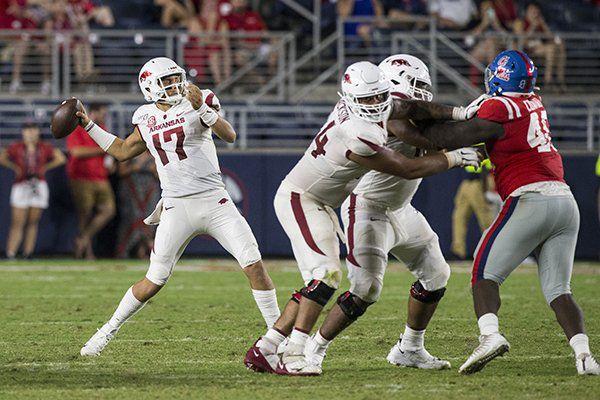 Nick Starkel is now QB1 for the Razorback football team.  It was speculated by most who had gotten a chance to see fall camp that Starkel would be the starter going into game one.  Coach Chad Morris went the opposite direction naming Ben Hicks the starting quarterback for the first two games. 
Morris and Hicks had a previous relationship while at SMU. Hicks was Morris' starting quarterback at SMU.  Hicks put up some nice numbers for the Mustangs, but in two games those have not translated to Arkansas.  has basically gotten one and a half games of reps while Starkel has received a half game of reps.  Hicks is 21 of 45 241 yards 0 TDs and 0 Ints.  Starkel while receiving a quarter of the playing time Hicks has is 21 of 29 for 249 yards 1 TD and 1 Int.  Starkel also had a touchdown called back due to an illegal formation versus Ole Miss.
Starkel will try to jump start an anemic offense through two games—only averaging 18.5 ppg versus Portland State and Ole MIss.  It is worth noting, in limited action with Starkel in the game the Razorbacks seem to have more rhythm and flow in the offense.
Arkansas is set to take on Colorado State at 3:30 pm Saturday at Reynolds Razorback Stadium which will be televised by the SEC Network.  Arkansas held a 27-9 lead on the three win Rams late in the third quarter last season.