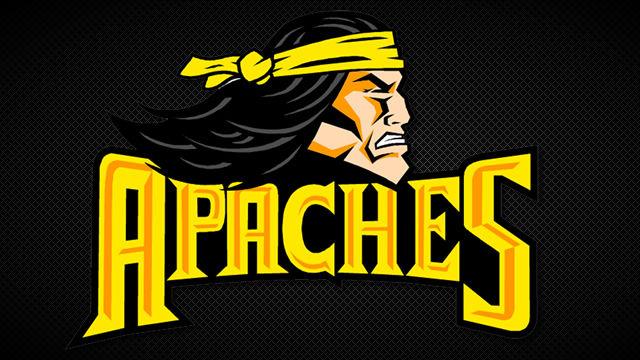 Submitted by Greg Jones and Lyndsey Hill
Pottsville 3, Pea Ridge 1
Pottsville baseball punched its ticket to the state tournament with a 3-1 win over Pea Ridge.
Pea Ridge opened the scoring in the first as Pottsville committed an error and gave up sacrifice bunt and a base hit to make the score 1-0. In the bottom of the inning Pottsville threatened when Mason Huie walked then Ben Jones went to second when Mason Huie was tagged out.  Jones moved to third on Rylee Huie ground out and scored on a wild pitch to tie it at 1 to 1.
The teams battled to a stalemate until the bottom of the sixth when Mason Huie was hit by a pitch Pea Ridge then intentionally walked Rylee Huie then both runners scored on Kaleb Tramel's double to make it 3 to 1.
Kaleb Tramel started the game and pitched the 4.1 innings giving up one unearned run, two hits, one strike out and a walk.  Mason Huie took Pottsville home and got the victory.  Huie finished the game going 2.2 innings giving up 0 runs on 1 hit, 0 walks while striking out six.
Pottsville will play Harrison Saturday at 3:00 pm at Farmington against Harrison in the semi-final of the 4A North regional.
Pottsville 2, Pea Ridge 0
Shannon Lasey threw a shutout to lead Pottsville Apache softball (15-7) past Pea Ridge (13-7) 2-0 on Thursday.
The pitching was strong on both sides. Lasey struck out seven, while Aidan Dayberry sat down five.
Lasey took the win for Pottsville. She lasted seven innings, allowing four hits and zero runs while striking out seven.
Dayberry took the loss for Pea Ridge. She allowed four hits and two runs over six innings, striking out five and walking one.
The Apaches tallied two home runs on the day. Sophia Hampton had a four bagger in the fourth inning. Sadie Saul put one out in the fourth inning.
Saul, Abbie Cain, Kayli Pennington, and Hampton all had one hit to lead Pottsville. The Apaches didn't commit a single error in the field. Saul had nine chances in the field, the most on the team.
Pottsville will take on 4A #2 Farmington (21-2) in the regional semi-finals on Saturday at 1 pm.