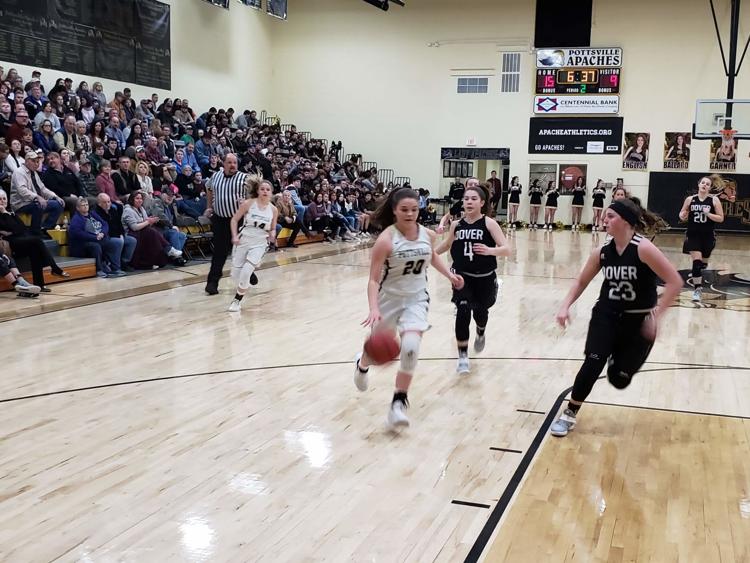 Pottsville 50, Dover 46
In a game that was first place versus last place in the conference you would have never known which team was first.  That's not a slight to Pottsville (16-8, 10-2) as much as it is a compliment to the Dover  Lady Pirates (8-17, 1-11).  With that being said the Pottsville Lady Apaches wrapped up the 4A-4 with their 50-46 victory over Dover.
The game seemed to be headed just another Pottsville victory when they took a 29-19 lead into the half, but the Lady Pirates had other ideas.  Dover outscored Pottsville 18-7 in the third quarter to take a 37-36 lead into the fourth quarter.
With the game tied at 38 Pottsville's Abby James hit a three-pointer to give the Lady Apaches a 41-38 lead. Then, it was a steal by Emma Tedder and another bucket by James that gave Pottsville a five-point lead.  It felt like Pottsville was going to walk to the win, but again Dover was having none of that.  Pottsville would push their lead out to 48-40 then Dover's Amelia Besterfeldt hit a three-pointer to cut the Pottsville lead to five points at 48-43.  Pottsville then missed two free throws and again it was Besterfeldt that hit another three-pointer to make the score 48-46. 
If you have watched the Lady Apaches this season they are no stranger to close games. The Lady Apaches are 9-2 in games decided by six points or less. 
With the score 48-46 the Lady Pirates put Abby James at the line with nine seconds to go.  James nailed the two free throws which ended up giving the Lady Apaches the final margin and the 4-4A conference championship.  Coach Drew Siebenmorgan said, "These girls have been a blessing to coach all season long—they have fought tooth and nail over and over again in big games.  I couldn't be more proud that they get to call themselves conference champions."
The Lady Apaches will go into next week's District Tournament at Ozark as the number one seed.  The Lady Apaches will also get a bye into the semi-finals which will give them an automatic berth into the regional tournament hosted in Morrilton starting February 20. 
Dover will go into the tournament as the seven seed and will take on Dardanelle on Monday 2-11. 
Shannon Lasey led the Lady Apaches with 14 and Abby James added 13 for the Lady Apaches.  Amelia Besterfeldt led Dover with 22 points including six three-pointers and Avery Sweeney added 13.
Scoring By Quarters
PHS 11 DHS 7
PHS 18 DHS 12
PHS 7   DHS 18
PHS 14 DHS 9
Tot: PHS 50 DHS 46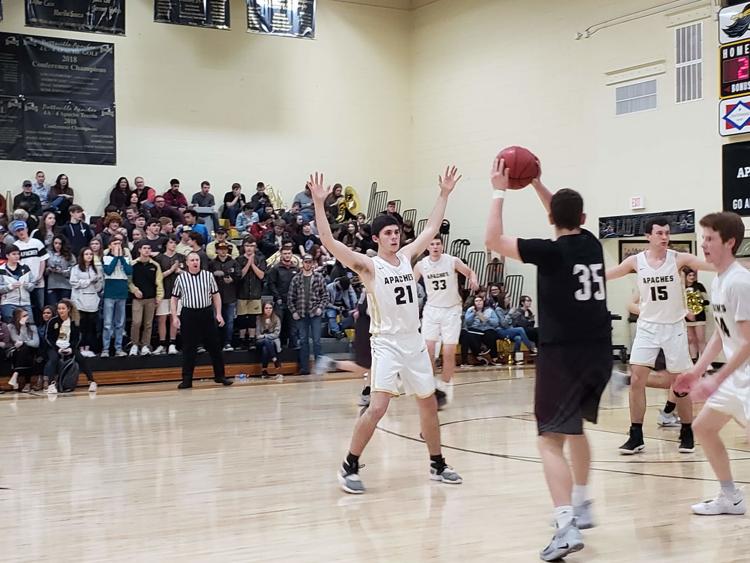 Pottsville 67, Dover 31
You do not want to be on the other end of revenge games when you are playing the Pottsville Apaches (21-4, 12-2).  Clarksville found that out earlier in the conference season as they were able to knock off Pottsville in their first meeting.  The Panthers got beat 70-37.  Dover (12-14, 5-9) would find similar results on Friday 2-8.
The Apaches opened the game on an 11-0 run, but Dover would be able to cut into that lead with a six to two run of their own to make the score 13 to six.  Pottsville would then go on a 12 to zero run to push their lead out to 25 to six.  Pottsville would take a 31-14 lead into the half. 
Pottsville would open up the third quarter on another 11 to two run making the score 42-16 and the Apaches would never look back.  Coach Thurman said, "It was our senior night so this was special.  We have seven seniors this year, and I just can't put into words what they have meant to our program and to me personally.  When you have good leadership it makes a coach's job very enjoyable."
Pottsville will also get a bye into the semi-finals which will be an automatic into the regional tournament.  The Apaches will play on Thursday.  Dover will open the district tournament as the five seed with Heber Springs on Monday at Ozark.
Pottsville was led by Wesley Heikes with 16 followed by Carter Horton with 11 points.  Justin Loveless led the Pirates with 10 points.
Scoring By Quarters
PHS 14 DHS 6
PHS 17 DHS 8
PHS 19 DHS 8
PHS 17 DHS 9
Tot: PHS 67 DHS 31