Russellville 88, Baptist Prep 85
First year head coach Kyle Pennington was brought in to turn around a struggling program—he seems to be doing that.  Russellville posted a 9-18 record last season.  The Cyclones are now just one win shy of their win total from last year with eight as they were able to hold off Baptist Prep and Kansas signee Isaac McBride. 
McBride had a historic night by scoring 58 of Baptist Prep's 85 points.  Russellville was able to combat McBride's 58 with 29 from Bo Mathis, 23 from Trey Allen, 17 from Ryan Sitkowski, and 15 from Kade Shaffer which is what you have to do when you face a player that performs on the level that McBride did tonight.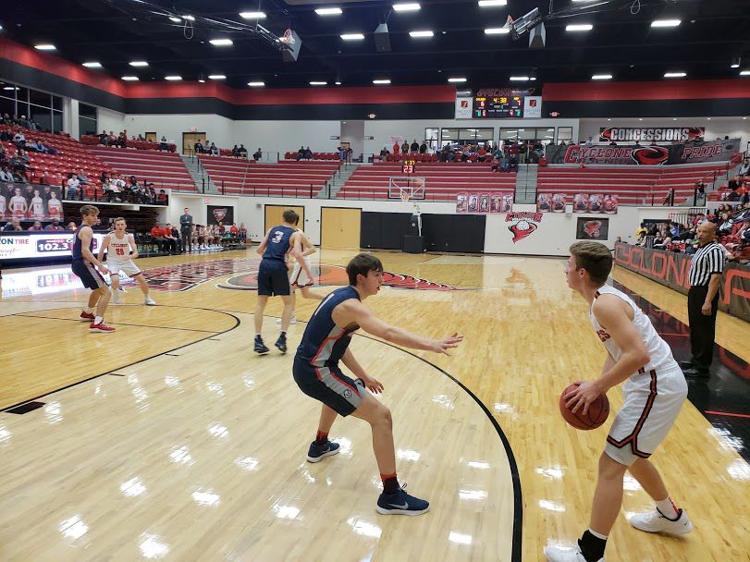 Things did not look good for the Cyclones early in the game.  The Eagles (13-3), who have been battle tested all year long, really came out strong in the first quarter outscoring the Cyclones 25-16.  The Eagle lead grew to as many as 14 points in the second quarter, but the Cyclones were able to keep it within 12 at the half at 43-31. 
The second half is where the game really got going.  Russellville scored 57 second-half points and seized the momentum in the third quarter.  The Cyclones outscored the Eagles 16 to six to bring the game to a tie at 51 with a Bryson Kordsmeier lay in. The game would go back and forth from that point forward.  Bo Mathis, who took home tourney MVP, hit a three-pointer to give Russellville their first lead at 55-53. Mathis hit another three to push the Russellville lead to five points.  Mathis was instrumental in gaining the momentum in the third quarter as he hit four of his seven three-pointers.  A theme established late in the third quarter; when the Cyclones would make a basket Isaac McBride would answer and he did just that to pull Baptist within two points at 58 to 56 with one of his 10 three-point baskets. 
In the fourth quarter Trey Allen put Russellville up four points with his put back of a Cyclone miss to give them a 60-56 lead. McBride cut the lead back to two points with two free throws. Allen had yet another put back to give Russellville a five point lead at 67-62 then McBride hit another three pointer to cut the Russellville lead to 67-65.  Trey Allen would continue his back and forth with McBride as he hit a three-pointer to make it 70-65. 
After Eli Stokes of Baptist Prep was assessed a personal foul and a technical foul Allen hit two free throws and Kade Shaffer hit one of two to give Russellville a 73-65 lead things started to feel safe. Needless to say they weren't.
Isaac McBride converted a four-point play with his free throw after made three-pointer to cut the Cyclone lead to four at 77-73.  To the Cyclones credit just as there was a McBride answer there was a Cyclone answer as well.  With Russellville leading 84-78 McBride converted yet another four-point play to bring the Eagles to back within two points 84-82. 
Bo Mathis yet again came up big—this time at the free throw line as he hit two big free throws to make the game 86-82.  After a Cyclone stop Trey Allen hit one of two free throws to make the game 87-82, but yes you guessed it Isaac McBride hit yet another three-pointer to cut the lead to two points with 7.8 seconds left 87-85.  The Eagles fouled the Cyclones with 3.9 seconds left sent Ryan Sitkowski to the line with a chance to ice it.  Sitkowski hit second of two free throws which enabled the Eagles to inbound with the clock stopped.  McBride got a clean look from half-court which rattled off front rim and back rim before falling safely to the floor.  The Cyclones pulled out a huge victory 88-85 to take home the Russellville Rotary Club Holiday Hoops for Hunger Tournament Championship.