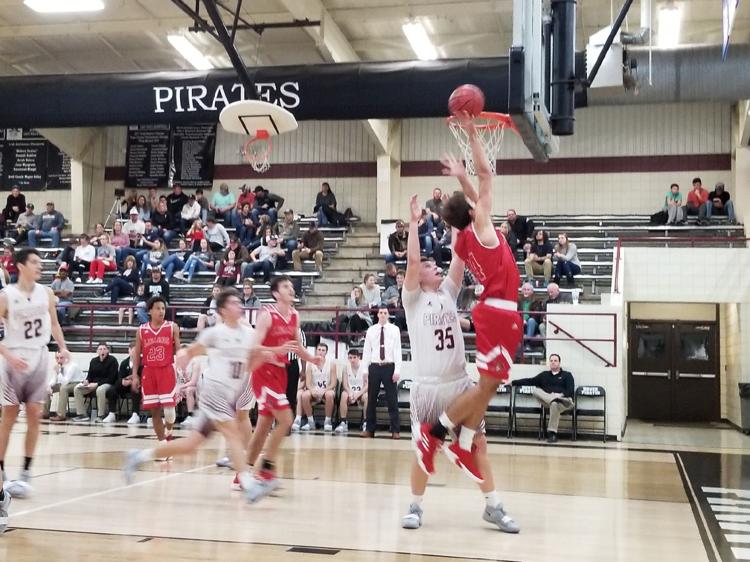 Dardanelle 55, Dover 39
Dardanelle (12-2, 3-1) continues to roll with their 55-39 road victory over the Dover Pirates (8-8, 1-3) Friday night January 4.  Dardanelle—coming off the Bank of the Ozarks Tournament championship—picked up their third conference win in four tries. The Sand Lizards look as if they will battle Pottsville for the top spot in the conference.
Dardanelle started the game on an 11-4 run on the strength of three Blake Chambers three-pointers.  Dover hit back to back three-pointers early in the second quarter to get within one point.  The Sand Lizards outscored the Pirates 11 to two for the rest of the quarter to take a 24-14 lead into the half. 
In Dover's last three games prior to tonight they scored 79, 72, and 62.  Tonight, they could not solve the Sand Lizard defense—only scoring 22 points through three quarters.  The closest that the Pirates could get is 40-27.  Dardanelle cruised to a 55-39 win. 
Blake Chambers lead all scorers with 13 points.  Josh Besterfield lead the Pirates with nine points.
Dover 44, Dardanelle 42
The Dover Lady Pirates (8-9, 1-3) were able to squeak out a two point victory at home over the Dardanelle Lady Sand Lizards (5-8, 0-3) by a score of 44-42. 
The Lady Pirates victory was keyed by a strong start.  It was an 11-3 run out of the gates that set Dover on the right track for the win.  Dardanelle used the three-pointer to crawl back into the game 19-15 by midway through the second period and it was nip and tuck from that point forward.
The Dover lead never got above seven points 31-24 with 4:20 left in the third quarter.  Dardanelle would once again chip away at the Lady Pirate lead bringing the game to a 33-31 Lady Pirate Advantage heading into the fourth quarter.  A Jorika Alvarez three-pointer tied the ball game with 56.3 seconds to go, but the Lady Pirates were able to pull out the victory in the final minute 44-42.
Coach Melton said of the victory, "We are very thankful we could come away with a win tonight.  We had all kind of issues going on with players in foul trouble, but we were able to make adjustments and hold on to the lead. We are very proud of all our players—it was a complete team effort."
The Lady Pirates were lead by Audrey Reichert with 10 points and Avery Sweeney added nine points.  Darby Brown lead Dardanelle with 12 points.
The Pirates will head to Subiaco on Tuesday January 8 while the Lady Pirates' next game will not be Pottsville Friday night January 11.