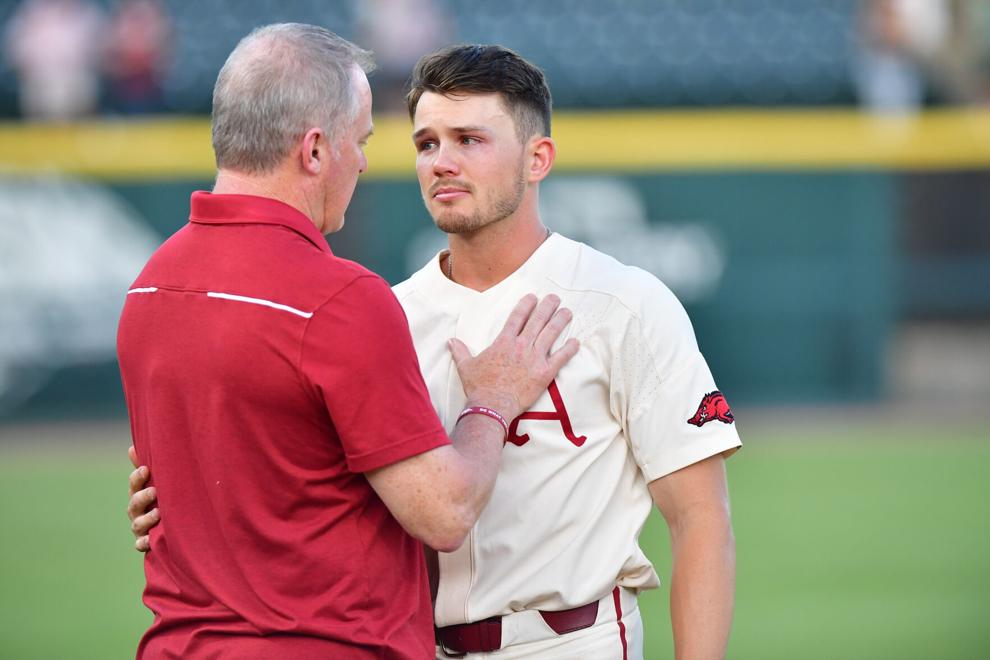 It started seconds after the final out of the Arkansas Razorbacks' season-ending 3-2 loss to the North Carolina State Wolfpack.
The naysayers.
The complainers.
The "fans."
They hit the internet in droves, to complain about David Van Horn, who has put together winning team after winning team spanning his 30-year career. Calling for his job. Pretending from the obscurity of a blue screen and keyboard that they understand baseball better than one of the best baseball coaches in the country.
I saw them make posts attacking kids on a college baseball team — not professional athletes. Kids.
I get it.
It hurts to lose.
It hurts to be the best team in the country only to be unceremoniously bumped from the road to Omaha in the Super Regional on your own home field, in front of your own home fans.
But I can promise you this: For as much as it hurts you, on your couch, sucking down your sixth beer and eleventh plate of nachos for the night, it hurts those kids on the field even more. Because you and I will get to watch the Arkansas Razorbacks baseball team until the day we die.
Some of those kids will never wear that uniform again.
And that means something.
And it should mean something to you, too.
You should be proud of the team Van Horn built in Fayetteville. Arkansas finished the 2021 season with a 50-13 overall record, the most wins by a Razorbacks team during the Van Horn era. The Hogs' collected tons of records — single season program bests in home runs (109) and strikeouts by pitchers (567), as well as both the SEC regular-season and SEC Tournament championships.
Kevin Kopps, who is by now a living folk hero, started for the first time this year and struck out nine.
Kopps is human, though.
He gave up two home runs, then fell into the arms of his pitching coach after being pulled in the ninth-inning. If I had to guess, a few tears were shed.
You could say, "What idiot baseball coach would leave a kid on the hill for almost 120 pitches?"
But let's not forget that Kopps, who finished the year with a 12-1 record, 11 saves, a 0.90 ERA and 131 strikeouts, had been untouchable all season.
If Van Horn had pulled Kopps and Patrick Wicklander had given up the homer, you'd have been saying, "What idiot coach pulls the best pitcher in the country?"
That's the thing...
Baseball — no, all sports — are full of these "what if" moments.
What if Christian Franklin had caught the two-run homer in the top of the third?
What if we had started another pitcher and gone to Kopps later in the game?
What if...?
What if...?
What if...?
It's useless.
And to me it shows a fundamental misunderstanding of what baseball is about. It's like Arkansas catcher Casey Opitz said on the Hog Pod with Bo Mattingly recently. "Baseball is a messed up game, and it's a messed up game by design."
Sometimes...the best team in the country falls short.
For me, I'll never forget my wife pumping her fist when Kopps struck out a batter in the top of the eighth to end the inning. I'll never forget my son crying when Jalen Battles was out at first to end the game.
That's when I knew this game had him. That's when I knew we had a lifetime of afternoons watching and playing baseball together. It wasn't sad. Not really.
It was beautiful.
And I'll always have the Hogs to thank for that.
Because, and this is important, the reason we love baseball is because sometimes baseball, like life, breaks your heart.