I was made a Paul Harris Fellow today with Rotary International through the Rotary Club of Russellville. This honor follows an accumulation of over $1,000 given to the Rotary Foundation and, as my certificate of recognition says, is "in appreciation of tangible and significant assistance given for the furtherance of better understanding and friendly relations among peoples of the world."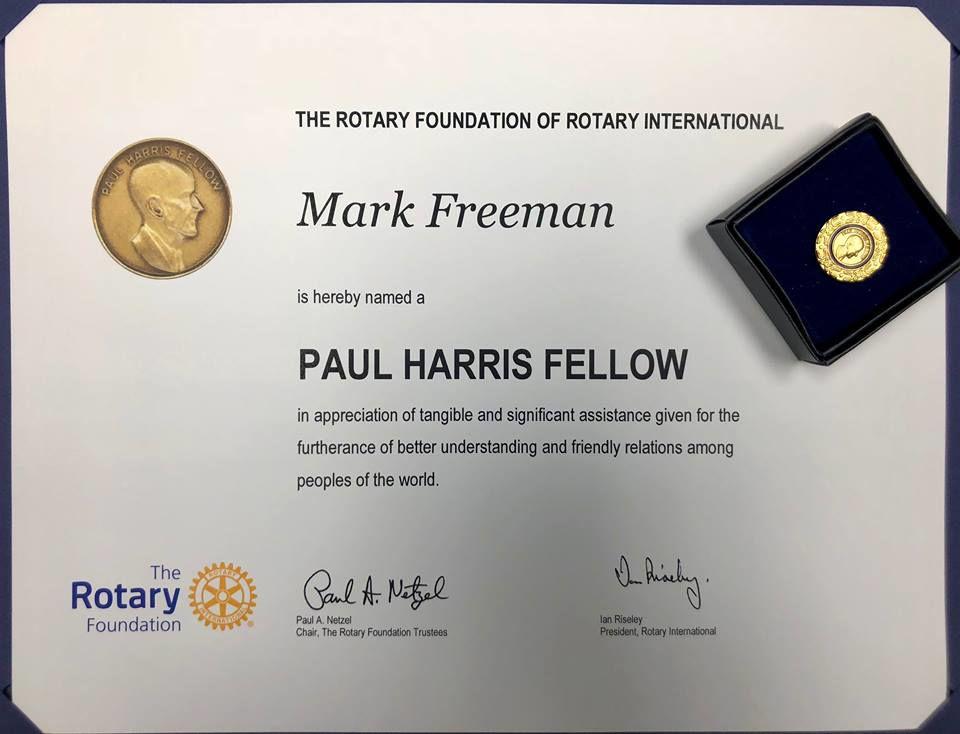 The only caveat is that I didn't give $1,000. Someone else did.
That person then decided with their "points" they would recognize me as someone they felt exemplified Rotary's "Service Above Self" motto. Talk about an honor!
There were eight of us today who were given a pin and certificate and doted on before the entire gathering at the club meeting, where our District Governor, Dennis Cooper, actually presided over the proceedings. Several of us were in the same position I was, while a few had reached the milestone through their own contributions. 
This year's Rotary International theme is "Be the Inspiration," and this fellowship has absolutely inspired me to join forces with the millions around the world who are generous with their time, talent and treasure to make their communities better places to live. I'm not a rich man, as far as finances go, but the knowledge that someone gave what they could and then decided to bless me really put in perspective how powerful the concept of "paying it forward" is. I decided to put in a meager monthly donation and work toward my own (earned) fellowship, with which I will gladly recognize someone else. 
You may not be a Rotarian (although, as this year's Noon Rotary President, I'd ask, why not join us?!) but I wonder if there's something you have to give your local community.
Are you retired, with some free time and an itch to serve? Why not connect with a local school to offer to volunteer to read to students? Are you doing well in business and looking for an outlet to help others less fortunate? There are incredible non-profits like The Russ Bus and River Valley Food 4 Kids doing great things in the River Valley. You could even volunteer with one of these great organizations when you do find yourself with a little opening on your busy calendar!
Today's events were the latest in a series of events that have shown me how blessed I am to live in this area, and I want to leave behind a legacy that not only pays that back, but pays it forward.
For more on the Rotary International, click here
To give to the Rotary Foundation, click here